Area Agency of Aging Directors
PSA
AAA NAME
DIRECTOR
ADDRESS
City
ZIP CODE
PHONE
TOLL FREE
EMAIL
PSA 1
Wyandotte-Leavenworth AAA
Ruth Jones
849 N 47th St
Kansas City
66102
913-573-8531
888-661-1444
rjones@wycokck.org
PSA 2
Central Plains AAA
Sedgwick, Butler, Harvey county
Annette Graham
2622 West Central St, Suite 500
Wichita
67203
316-660-5224
800-367-7298
agraham@cpaaa.org
PSA 3
Northwest Kansas AAA
Michelle Morgan
510 W 29th, Suite B
Hays
67601
785-628-8204
800-432-7422
mmorgan@nwkaaa.org
PSA 4
Jayhawk AAA
Shawnee, Douglas, Jefferson
Susan Harris
2910 SW Topeka Blvd
Topeka
66611
785-235-1367
800-798-1366
sharris@jhawkaaa.org
PSA 5
Southeast kansas AAA
Kathy Brennon
1 W. Ash, PO Box J
Chanute
66720
620-431-2980
800-794-2440
kathy.brennon@sekaaa.com
PSA 6
Southwest Kansas AAA
Rick Shaffer
PO Box 1636
Dodge City
67801
620-225-8230
800-742-9531
rick.schaffer@swksaging.org

PSA 7
East Central Kansas AAA
Leslea Rockers
117 S. Main
Ottawa
66067
485-242-7200
800-633-5621
leslear@eckaaa.org
PSA 8
North Central-Flint Hills AAA
Julie Govert Walter
401 Houston St
Manhattan
66502
785-776-9294
800-432-2703
juliegw@ncfhaaa.com
PSA 9
Northeast Kansas AAA
Karen Wilson
1803 Oregon St
Hiawatha
66434
785-742-7152
800-883-2549
Karen.wilson@nekaaa.org
PSA 10
South Central Kansas AAA
Jodi Abington
304 S. Summit, Box 1122
Arkansas City
67005
620-442-0268
800-362-0264
sckaaadir@yahoo.com
PSA 11
Johnson County AAA
Tim Wholf
11811 S. Sunset Dr, Suite 1300
Olathe
66061
913-715-8826
913-715-8800
Tim.Wholf@jocogov.org
Ex Dir
Kansas AAA & Disability Services
Janis DeBoer
janis@k4ad.org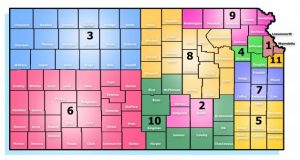 There are eleven Area Agencies on Aging (AAA's) in Kansas, each encompassing a designated geographical area.
These agencies have the primary task of planning and coordinating services and programs for persons aged 60 and over in their areas.
The acronym "PSA" stands for "Planning and Service Area".
Area Agencies on Aging are funded through the Older Americans Act and the State of Kansas and participant contributions.